Annual Senior Angel Tree Program
Hello Isle of Wight community! The 2020 Senior Angel Tree Program is complete and was a blessing to the 129 seniors that received presents. Thank you to all the people that donated presents, the Luter YMCA, Christ Church, QDaddy's BBQ, Ringos Donuts and Wharf Hill who hosted trees and the COP volunteers who brought the entire effort together.
Isle of Wight

Christian Outreach Program
The Isle of Wight Christian Outreach Program (C.O.P.) provides food, furniture, diapers, emergency assistance, and more to those in need living in Isle of Wight and Surry Counties. We are are an all volunteer non-profit group. There are many ways that you can help support us to include making donations or volunteering your time. Read more about us.

On October 23 a group of students representing the Isle of Wight Academy students and staff delivered a major donation to the Christian Outreach Program's food pantry. COP greatly appreciates their hard work.
COLD WEATHER IS HERE
COP still has some h
ats, gloves and scarves available for those in need. Go through the food line at
402 Grace Street, any Mon, Wed, or Fri 11 am-3 pm

and a volunteer will assist you.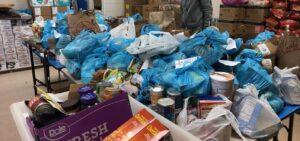 A big thanks from Christian Outreach to Smithfield Troop 1904, Trail Life USA, and American Heritage Girls for 2 vans and a truck load of non-perishable donations and diapers. Twenty-five families got together to make all of this happen….We appreciate you all!!!
Donate
C.O.P meets many needs for families in Isle of Wight County and your donations make that possible. Click below to learn more about ways to give. Your financial donations, diaper donations, food donations, and furniture donations are greatly needed.
Volunteer
C.O.P. is a volunteer organization. You can help by volunteering your time. Click the button below to register below for one of our many volunteer opportunities. Your time and assistance means so much to those in need.
C.O.P. MISSION STATEMENT
To help the poor, needy, and sick of Isle of Wight County.
C.O.P. Provides
Food Assistance
Food For Thought Reading Program
Diaper Distribution
Emergency Assistance
Dental Assistance
Furniture
Angel Tree Gifts
Hours & Location
Open Monday, Wednesday, & Friday 11:00 AM – 3:00 PM
*Diapers are distributed on Mondays from 11:00 AM – 2:00 PM
Physical Address:
402 Grace Street, Smithfield, VA 23430
Isle of Wight Christian Outreach Program THANKS YOU!!!
We w
ould like to thank all of our volunteers, supporters and participants in making our annual Hog Jog and Souper Saturday so successful. We truly appreciate our wonderful community for their efforts and continuing support.
Thanks to everyone who helped us to help others.